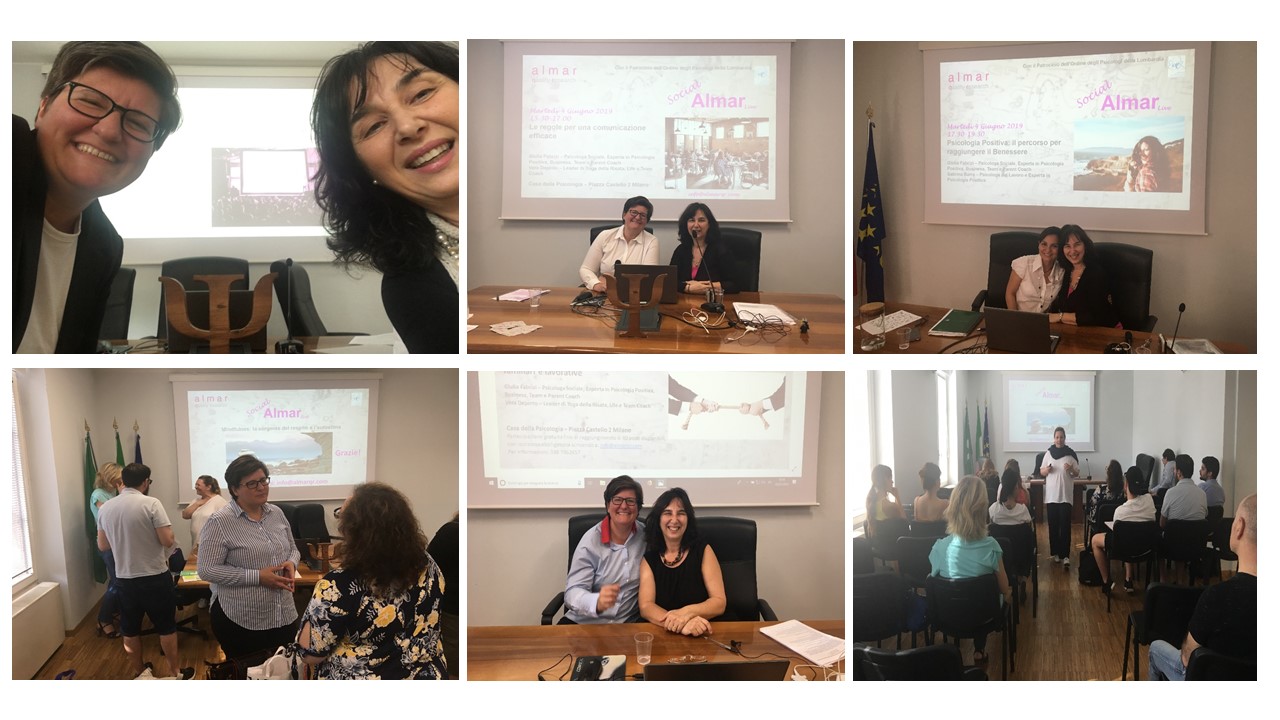 Social Almar – well-being practices
Social Almar is the 'Social' soul of Almar Quality Research.
It has the aim to support people to reach personal well-being in private (individual, couple and family), social and work (friendship, school and work) environments.
Social Almar is a project thought by professionals, such as:

Psychologists
Psychotherapists
Experts in Positive Psychology
Leader of Laughter Yoga
Experts in Mindfulness
Psychologists of Work and Organizations
Experts in Human Resources
Business Consultants
Business Coaches
Team Coaches
Life Coaches
Parent Coaches
Many references to Positive Psychology, according to which, in order to achieve one's personal well-being, it is essential to give meaning to one's life and have a significant purpose to achieve, and to other disciplines that have as their goal the happiness and well-being of people, such as laughter Yoga, Mindfulness, Coaching. The many ways to reach Well-Being.
In particular, the topics of the meetings concern the following aspects:
Social and professional area

Friendships and sharing moments to get to know other people
School
Work
Examples of topics covered:
Private area
individual:

Objectives in life, how to reach them, what resources and potential to use: how to set up a life plan that matches one's values, interests and abilities
Ikigai, the word that means 'meaning of life' in Japanese: the 4 questions to understand the meaning to be given to one's life
The different life stages, from adolescence (13-19 years old) to the 'second adolescence' (around 40 years old for women and between 50 and 60 years old for men): from the own Self-discovery to the moment of the 'balance', what has been done and awareness of how to set one's future
What is Laughter Yoga and what is Gibberish (non-sense language)? Well-Being practices to support people of any ages in all private and professional areas of life. Some advantages from practicing Laughter Yoga are: good mood and spontaneous laughter, decrease of stress levels, health benefits, improved quality of life, positive attitudes in difficult moments
Mindfulness to achieve a healthier lifestyle, thanks to a greater awareness of the 'here and now' and the practice of conscious breathing
How to improve one's self-esteem and live situations with greater self confidence
Recognition and effective management of own emotions

couple:

When was the last time you hugged your partner? Tips for creating and maintaining a happy relationshipbased on basic values

family:

Affect, esteem and respect: affectionate attentions, active listening and enhancing the potential of all family members
The 'ideal climate' in the family: how to create and maintain it over time
Social and professional area
social: friendship and sharing moments to get to know other people

Events organized submitting the 'Affinity' Test: meeting new people who have affinities at psychological, values and lifestyle levels
Moments of sharing in the theater, at concerts, in pubs and so on, organized in order to create a moment of confrontation and deepening by participating in interactive workshops after having participated to the shows

school

Orientation in the choice of high school, University or other type of Schools: is it the right choice I am making for my future? Psychological tools to analyze one's potential and talents
How is the 'thermometer' of the class? Is there tension or harmony between students, between students and teachers? What are the signs and how to intervene to create a positive atmosphere
Mindfulness in the classroom to stimulate greater attention to the 'here and now', moment by moment, in an intentional and non-judgmental way, practicing the conscious breathing
Signals to recognize learning disabilities
How to encourage children and students to love learning, how to 'learn to learn'
Teachers and parents: how to create a partnership for the benefit of the pupil-children
Laughter Yoga to promote healthy emotional development and improve school performance

work

Orientation in choosing the right job based on own potential and talents
How to create a positive environment at work, improving one's job satisfaction and relationships with colleagues
How is a HR interview carried out? How should one prepare him/herself for the job interview? How to prepare a Curriculum Vitae?
Work-Life balance: how to find a balance between work and private life
Mindfulness to train oneself to live one's job role with balance, confidence and self-esteem and learn to give the right weight to people and situations
How to work profitably in a team: the steps to set up an atmosphere conducive to interaction, transforming a 'group' in a 'team'
How to interact with potential clients: the role of empathy, verbal, non-verbal and para-verbal language during the interaction, the questions to ask and how to ask them
What the rules for public speaking and how to prepare a presentation to entertain the audience: rules for a successful presentation from Psychology, Coaching and Neuroscience knowledge, suggestions for setting up effective slide (Simon Sinek's Gold Circle)
How to manage and moderate a focus group and how to conduct an in-depth interview: the attitude to active listening, the ability to ask the right questions and relaunch the concepts to be further explored and analyzed
Laughter Yoga in the organizations to improve performance and work in general
OTHER PROJECTS AND ACTIVITIES
Social Almar will also launch competitions to reward The Best 'Nudge' in the family, school, business and social areas:

'Nudge' means "goad, gentle push" and it is the 'loving encouragement of mother elephant to her baby'
The nudge acts on people's choices, guides them, but without imposing anything: instead of forcing people to do something positive for themselves or for the society, that they do not want to do, it is possible to gently push them to make better choices, changing the way choices are presented

Social Almar will create a Facebook page 'I❤MyJob' where one can tell his/her work characteristics, how one feels when doing the job one really likes. Everybody will find tips, suggestions to make own job more enjoyable
Social Almar will also conduct both online and offline surveys on various topics, to give voice to people and understand their needs
Where the Social Almar meetings took place
Portineria 14, Via Troilo 14 Milan
with the support of San Gottardo Meda Montegani Social Street
From December 2018 to March 2019 Social Almar , every Monday, from 17.00 to 18.00, offered its advices among the people, offline, in a public place, Portineria 14, the bar-concierge whose missioni s to "rebuild the social connections inside the neighborhood, entering in relationships with people and trust each other"(https://www.facebook.com/Portineria14/)
The meeting were free and open to all
Casa della Psicologia, Piazza Castello 2 Milan
with the Patronage of the Order of Psychologists of Lombardy
From 9th April to 2nd July 2019, twelve free meetings took place, lasting up to 2 hours each, treating the following topics:
| | | |
| --- | --- | --- |
| | 15.30-17.00 | 17.30-19.30 |
| 9th April 2019 | Public Speaking: how to manage the emotions | Positive Psychology: the 24 potentialities and how to train them |
| 14th May 2019 | Let's play with the Science of Joy | How a selection process is structured and what are the effective soft skills searched from companies |
| 21st May 2019 | Re-discover your inner child with Laughter Yoga | Mindfulness: the non-judgmental attitude of concentrating in the present moment. Practice of conscious breathing |
| 4th June 2019 | The rules for effective communications | Positive Psychology: the path to reach the Well-Being |
| 18th June 2019 | The management of emotions with Laughter Yoga | Mindfulness: the source of breath and self-esteem |
| 2nd July 2019 | Managing objections inside the family and at work | Mindfulness in the organizations: practices for lowering stress levels |
The purpose of all meetings was to support people in achieving their personal Well-Being in the private, social and professional environments. In each meeting, the opportunity was given to have individual and group experiences on each topic.
Get in touch to arrange the first appointment for free, with one or more professionals. We will plan the best sessions just for you!
For information, contact info@almarqr.com
Share: